I learned this recipe for chicken bog when I was just starting out on my own and on a very tight budget. Chicken and rice is a staple recipe in our household and has been since my early twenties. Any time the weather dips into these chilly temperatures, I start craving a hearty warm meal. Chicken bog definitely delivers! The beauty of this recipe is that it requires very few ingredients, in fact, they are mostly pantry items. The chicken bog also reheats incredibly well. I usually make it on a Sunday night and pack it for lunch for two or three days.
Besides being extraordinarily budget-friendly, there's the bonus that it is a one-pot wonder! You simply add all the chopped ingredients to one pot and let the delicious flavors mingle together. Rice really stretches this meal. We typically get 3-4 meals for two out of this (6-8 servings).
How can you make this chicken bog recipe more budget-friendly?
I will tell you, I have tried to see if I can stretch the meal even further by adding more rice, but it really dilutes the flavor. You can experiment with adding more vegetables, but I would do so incrementally. However, you can plan to make this the same week you make our delicious ginger carrot instantpot soup. Since you are using many of the same ingredients, it cuts down on your total grocery spend!
Can you use chicken thigh instead of chicken breast?
Yes, you can absolutely use chicken thighs instead of breasts. That makes this recipe even more budget-friendly!
Can I omit the red pepper from the chicken bog?
We love the heat the red pepper brings to this recipe. However, if you or your children are super sensitive to heat, you can definitely omit the red pepper. Then if you or any individual desires more spice, you can always add a couple of dashes of tabasco to their individual bowl.
I don't have lemon juice is it necessary?
No, you can totally omit the lemon juice. It adds a really nice bright burst to a rather rich meal, but if you don't have it, you won't miss it.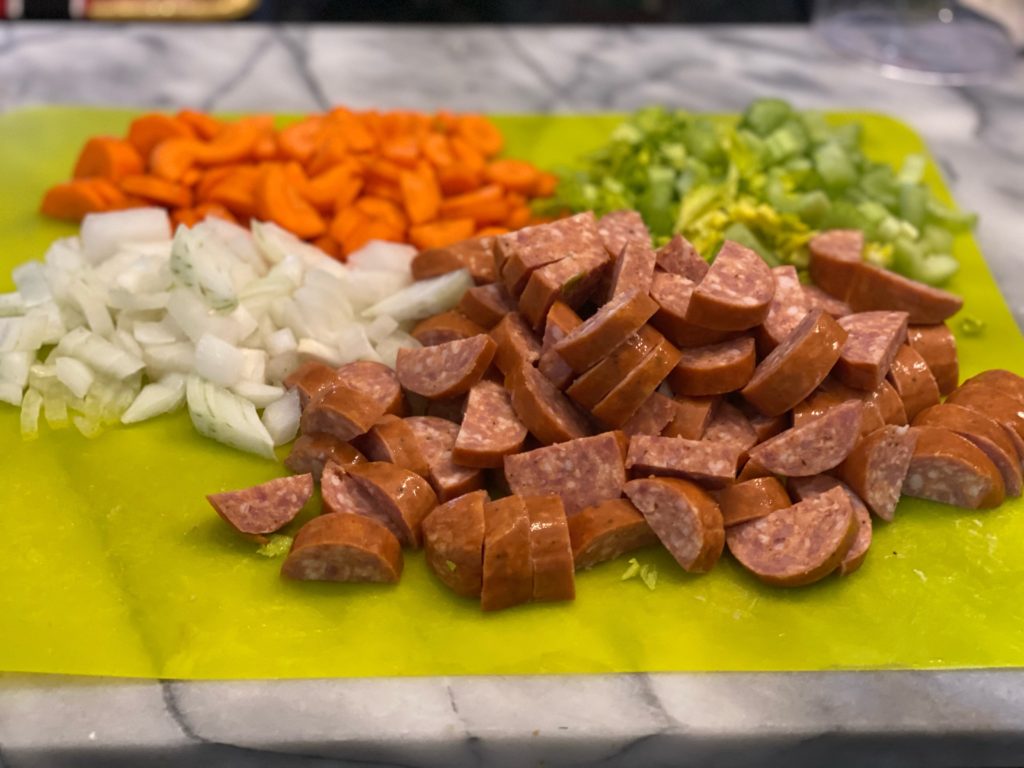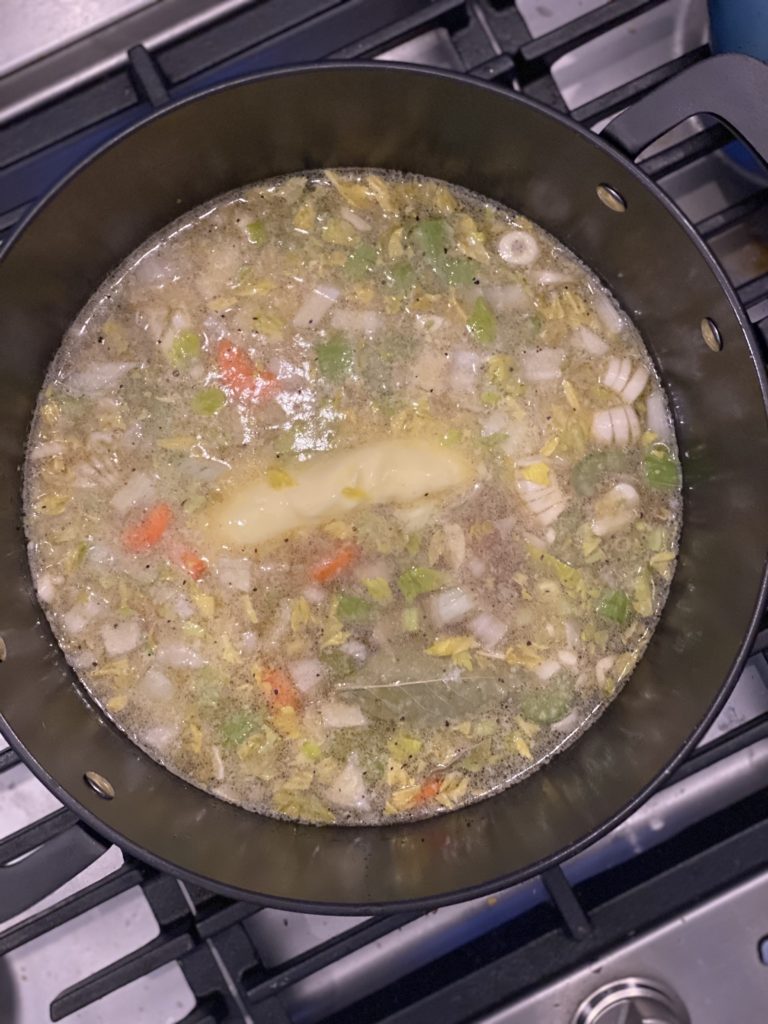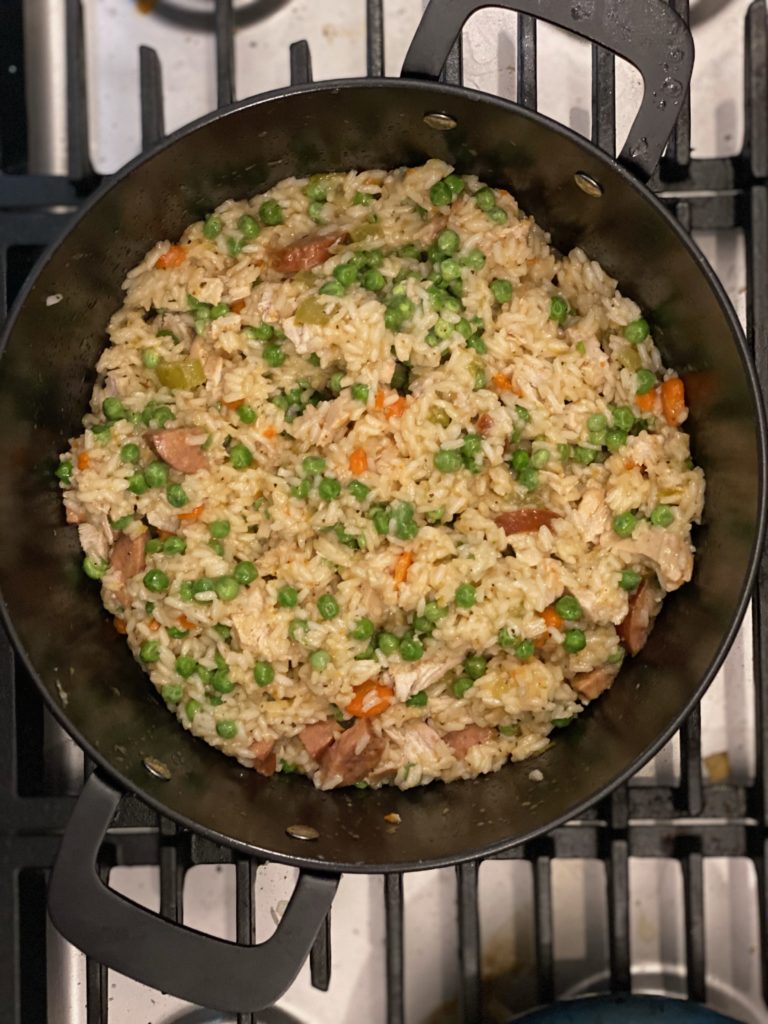 Print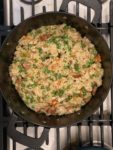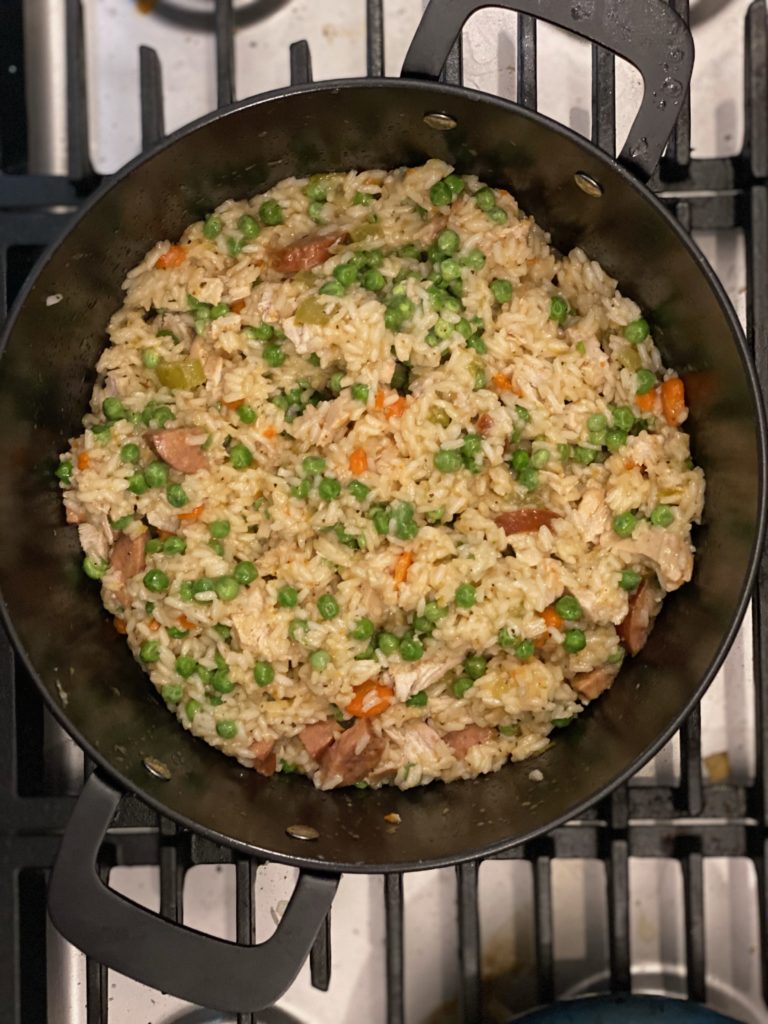 Chicken Bog: The One Pot Winter Wonder
Author:

Prep Time:

15 min

Cook Time:

1 hour +10 min

Total Time:

1 hour 25 minutes

Category:

Dinner

Method:

One Pot Meals
---
Description
This savory one-pot chicken and rice meal will warm your soul.  It has a hint of heat and a satisfying savory flavor from the andouille sausage.  This meal is just as delicious reheated…should you have any leftovers!
---
Scale
Ingredients
1 lb chicken
13.5 oz andouille sausage chopped
3 carrots chopped
2 ribs celery chopped
1 cup chopped yellow onion
3 garlic cloves minced
1 stick of butter
3 Bay leaves
2 tsp salt
1 tsp red pepper
1 tsp black pepper
6 cups water
2 cups broth
3 cups Mahatma rice
12 oz green peas
1 TB lemon juice
Parsley for garnish (optional)
---
Instructions
1. Peel and chop carrots
2. Chop celery, garlic, sausage.
3. Add chicken (leave whole for now), sausage, carrots, celery, onions, garlic, butter, water, broth, red pepper, black pepper, and bay leaves to pot.
4. Simmer for 40 minutes.
5. Remove chicken to cutting board
6. Add rice and cook for 10 minutes at a boil
7. Lower heat and cook an additional 10 minutes. (keep an eye on your rice and heat–DON'T Let it burn!
8. Remove bay leaves
9. Chop up chicken into bite-size pieces
10. Return chicken to the pan and stir in peas
11. Shut off the heat and let the pot stand for 10 minutes
12. Spoon into bowls dash with a bit of lemon juice and garnish with parsley
---
Notes
It's critical in the last 10 minutes of cooking that you keep a close eye on the rice.  You do not want it to burn.
Keywords: One pot meals, budget friendly